Editing & Proofreading Services
Verbal Ink offers both editing and proofreading services — and yes, those are two different animals! In short, editing is useful for a work-in-progress, while proofreading is the final pass before submission. In both cases, our services are meant to bring out the very best in your writing. If having a document written for you sounds more appealing, we also offer copywriting services.
Substantive Editing Services
Substantive editing is a comprehensive process that not only corrects spelling, punctuation, and grammar, but also revises the actual content of the writing. Editors offer suggestions on how to develop ideas and provide comments on the clarity or logic of the argument. Additionally, editing ensures adherence to a particular field's style guide or other formatting requirements.
Proofreading and Copyediting Services
Proofreading, in contrast, doesn't provide any feedback on your writing, but focuses solely on the technical aspects: spelling, grammar, linguistic errors, and format discrepancies such as line spacing, font continuity, and orphans and widows. Don't know what all of those things are? Your copyeditor does and will make sure your document is letter perfect. As such, proofreading is reserved for drafts that have already been edited and need only minimal corrections.
| | Editing | Proofreading |
| --- | --- | --- |
| Spelling | | |
| Grammar | | |
| Punctuation | | |
| Linguistic errors | | |
| Formatting | | |
| Rewrite suggestions | | |
| Sentence/paragraph structure | | |
| Clarity and readability | | |
| Vocabulary correction | | |
Our editing and proofreading services are used by:
Academics and students: Term papers, dissertations, essays, journal articles, and theses.
Businesses: Memos, brochures, manuals, promotional materials, and white papers.
Authors: Manuscripts, plays, books, short stories, and screenplays.
Individuals: Cover letters, resumes, curriculum vitae, letters, and obituaries.
ESL speakers/writers: We can edit any document to help you sound more like a native speaker.
…and beyond!
Our Editing Team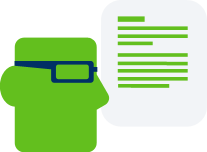 Our reputation is built on precise, accurate, and detail-oriented work, and we know that our customers expect nothing less. We have a rigorous hiring process that involves in-depth testing for editing and proofreading, knowledge of common style guides, and an expert grasp of the English language. All Verbal Ink editors and proofreaders fulfill at least one of the following criteria:
Possess a BA/MA/PhD in Writing, English or Linguistics
Have published work or have experience editing with published works
Have at least three years of experience editing and proofreading
Have extensive knowledge of multiple style manuals, such as MLA, APA, and Chicago Manual of Style
Different disciplines and industries have different needs when it comes to writing. That's why, in addition to those with writing-intensive advanced degrees, we have editors and proofreaders with strong writing skills across all fields and disciplines. As a result, we offer editing and proofreading services that can handle field-specific languages and styles, such as medical terminology or Bluebook legal citation.
For pricing or more information about any of our services, please contact one of our Account Executives today.